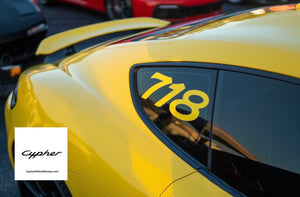 Price is for a set of 1 to 3 digits for both sides of your car. 

Race numbers about 6" tall for window and 8" tall for door.
Removable matte black or white vinyl or Custom color to match your car's color.
     For Custom (Special Color or Special Type of Vinyl):      
         We can usually even match your PTS car - multiple samples may need to be special ordered or special vinyl may need have minimum order sizes from manufacturer. Included is a value of $25 on vinyl anything above that will be billed separately. 

Outdoor High Quality Vinyl

Comes with transfer tape.

 If you want something more than numbers
- Reach out on facebook. 

DETAILS
• Race numbers about 8" tall
• Removable vinyl
• Default numbers are in the font shown
• If you want custom font (like Mazda Style font) OR custom color  to match your car(like Miami Blue) choose custom
• Add any details in checkout notes
• Comes with transfer tape