20% OFF & Discounted Shipping*
- For a Limited Time - 
* in Continental USA

This is a preorder. 
993 Full LED Headlights - Price is for a pair!
PRODUCT DETAILS

Nearly double the light output from modern, high powered Bi-LED projectors!

Available in Classic White & Modern White.

These are the perfect solution to subtly update the front-end of your 

993

 without compromising the delicate styling of the car.

 

Direct replacement for factory headlights with plug n play connections. 

 

Optics meet & exceed all SAE, DOT, and FMVSS108 standards.

 

Produced from the best materials, backed with a five-year warranty, and designed to comply with all standards.
CLASSIC WHITE OR MODERN WHITE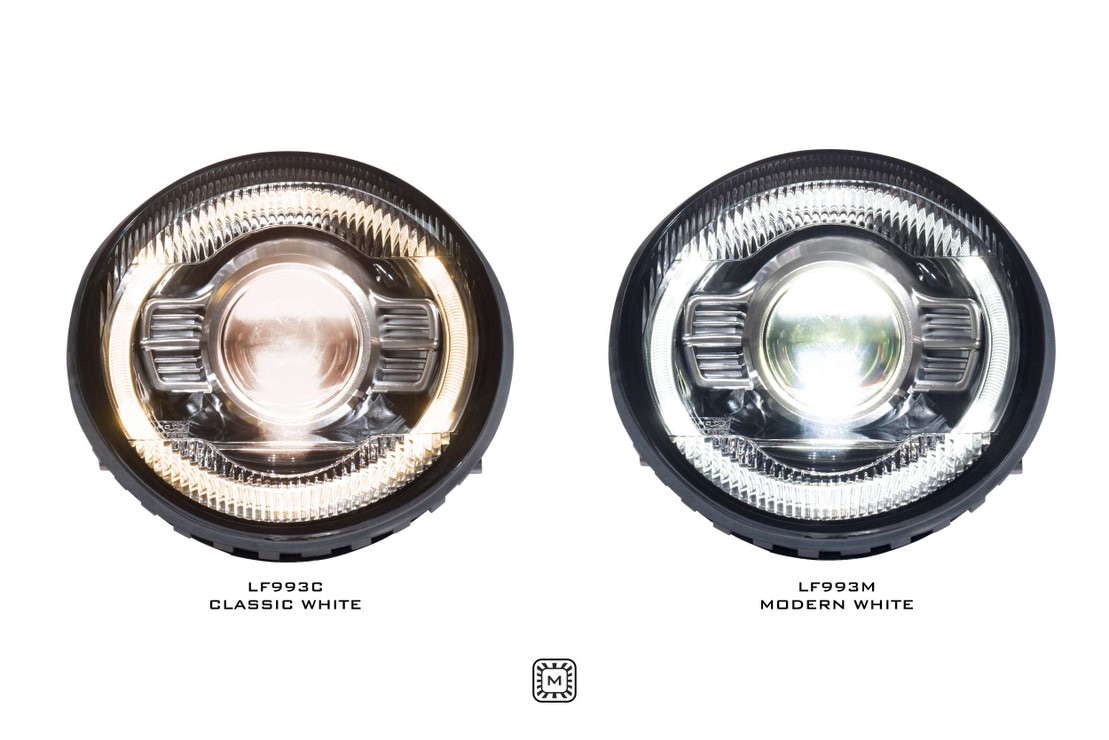 AIR COOLED: If you know, you know. There is nothing that looks better. Nothing that sounds better. Nothing with more character... than a classic air-cooled Porsche. Everything about these cars is the pinnacle of perfection for analog-enthusiasts, and we wouldn't change a thing. These were simpler times, but simpler times also came with simple headlights, and that's one thing we Porsche fans don't necessarily admire. Especially when the original lenses are now starting to haze, and its dark outside. At Morimoto, we get it, and that's why our new 993 Bi-LED headlights are about as future-proof as the 911 itself.
COMPATIBLE: these are a direct bolt-on fitment for all 993-Era Porsche 911s from 1995-1998 including the Carrera, Carrera S, Cabio, Targa, and Turbos. They slide and lock into the front fenders just like the original units, and should not take more than an hour at most to install.
BI-LED: The Morimoto XB LED headlights for the 993 come standard with a single high-output Bi-LED projector, just like the OEM headlights found on the latest 911s. They're going to perform even better than they look, with a wider, significantly brighter low beam, and a high beam that will penetrate far into the distance with ease. To top it all off, these optics meet & exceed all SAE, DOT standards when aimed properly, which is easy to do with their integrated aiming adjusters.
PLUG N PLAY: The Porsche 993 XB LED Headlights from Morimoto are designed to work without any modifications. These LED headlights will plug into the factory connectors for the stock lights on all US-spec cars. They are compatible with 911s that have both halogen or Xenon/Litronic headlights. It is worth noting that while the multi-pin connector on these headlights is designed to slide in and mate with the factory headlight connector, throughout R&D we encountered several cars with broken mounts, resulting in the need to manually connect the wiring before locking the headlight in place.
STYLE: Unmistakably inspired by the design from a Porsche tuner, these are the perfect solution to modernize the front-end of your 993 without compromising the delicate styling of the car. The geometry and much of the fluted texture on the front-lens has been preserved. The optical light pipe that wraps around the outer perimeter of the housings acts as a low intensity parking light and the full intensity daytime running light. The optics create four pronounced hot-spots in each corner of the light, which are also reminiscent of what Porsche did on the 991-generation cars.
CLASSIC OR MODERN WHITE: The Classic White model looks especially natural on the car with the warm white LEDs, and could truly pass for original-equipment, while the Modern White version offers a more updated appearance. In either case, we have matched the color of the daytime running light optics and main low/high beam LED projector.
WELL-BUILT: The durable polycarbonate lens has been UV treated, and will resist the test of time, keeping the housings looking new for many years to come. All wiring and connections are OE grade, and the optics inside are designed to maximize visibility on par with modern Porsche lights. The price is justified, and as the saying goes: you pay for what you get. These headlights are built to exceed all expectations and should easily last the life of your classic 993!
WHAT'S INCLUDED

TAIL LIGHTS: Complete with 2x Outer and 1x Center section for all 95-98 Porsche 911s

WIRING: Plug and Play Adapter Harness (US Spec Only)

WARRANTY: 5 Years
COMPATIBILITY

PORSCHE 911: 95-98 (993 Body style) (All sub-models included)

US SPEC CARS: Halogen and Litronic/Xenon

EU SPEC CARS: Unknown/Not confirmed

REPLACES PORSCHE PART #: 99363105200, 99363105100, 99363190300, 99363105102, 99363103101, 99363103102

COMPLIANCE: DOT, SAE, ECE Compliant
TECH SPECS

INTENSITY: 3,200lm (raw; each)

TRAFFIC PATTERN: LHD Only

INPUT: Porsche Multi-Pin OEM

FUNCTIONS: DRL (White), Parking, Low Beam, High Beam

BEZEL COLOR: Gloss / Gunmetal Metallic Gray

MATERIAL: ABS Plastic (Housing), UV-Resistant Polycarbonate (Lens)

OPTIC: Single 3" Kuria Optic Bi-LED

UV COATING: Momentive UVHC3000
 
INSTALL GUIDE
DOWNLOAD HERE
Please see policies for any returns or cancelations. 
Made by Morimoto XB brought to you by Cypher Vehicle Design



FOGLIGHT INFO 

PRODUCT DETAILS
LOOKS AND PERFORMANCE: The Porsche 993 is an all-time classic, but that doesn't mean the lighting performance has to suffer. Not only can you update the front-end of your 993 with the Turbo S style air ducts, but you can also vastly improve night time visibility with modern LED fog lights.
THE FULL PACKAGE: The new Morimoto XB LED projector fog lights: Look great. Are well-built. Perform like champs. Have a virtually infinite life span. An unbeatable warranty, And best of all you won't need to sell your soul to afford them! Compared to other Turbo-S style duct fog lights for the 993, these come in at a fraction of the price, are of better quality, and feature a fog light that produces good usable light output (most alternatives on the net just use a little LED puck there, that doesn't actually produce any light output)
COMPATIBILITY: These complete Porsche 993 fog light housings will swap directly in place of the original halogen fog lights, using all of the stock mounting locations. Their aim can be perfectly dialed in with the integrated height adjusters. The ducts are functional and do let air through the bumper-- but the kit does not include any additional hoses to route air to your brakes.
PLAY AND PLAY Wiring is easy too! The Morimoto XB LED Fog Lights for the Porsche 993 are designed to work without any special wiring. They will plug into the factory connectors for the stock fog lights and each assembly includes all necessary connectors, rubber seals, and pigtails for a plug n play install. Very simple and easy to do within minutes.
LIGHT OUTPUT: Powered by three Philips Luxeon 3800K LED's that produce around 1200 raw lumens per side. The projector-based optics concentrate a total of 2400 lumens into a beam that's super wide and perfectly distributed for use as a fog light. Morimoto specifically selected the LEDs for the 993 fog lights to produce a warmer colored light output relative to the rest of their range, so that they have a more period-correct appearance on the 911. They also meet or exceed all SAE, DOT, and ECE regulations.
PAINTABLE: The black ABS housing on the XB LED fog lights for the 993 is designed to be paint matched to your Porsche. While it is durable enough to be mounted and used without any additional finishing work at all, they look so good color-matched to the car, and that's undeniable!
TRUSTED: For more than a decade, we've worked hard to earn our killer reputation. Car guys world-wide know that TRS carries the internet's best selection of high performance automotive and powersport lighting products at the best prices, and we've got the best, most knowledgeable team of real enthusiasts to help back it up. If we sell it, then you bet we've put it to the test on our own cars, trucks, and bikes. Need a recommendation on parts for your project? Got a tech question? Wholesale inquiry? Contact us!
WHAT'S INCLUDED

FOG LIGHTS: 2x (One Pair) Morimoto XB LED Type 993 Fog Lights

WIRING: Plug and Play Harness

OPTIONAL: Yellow Lamin-X Film Kit
COMPATIBILITY

PORSCHE 911 993: 1994-1998

REPLACES PORSCHE PART #: 99363108200, 99363108100
TECH SPECS

INTENSITY: 1,200lm (Raw; each)

INPUT: Proprietary

MATERIAL: Powdercoated Aluminum (Housing), UV-Resistant Polycarbonate (Lens)

LIGHT SOURCE: Philips Luxeon 3800K (Warm White)